5 Awesome Small Businesses Built on Personal Brands
Posted in :
Small Business Tips
,
Social Media Marketing Resources
on By
Vinay V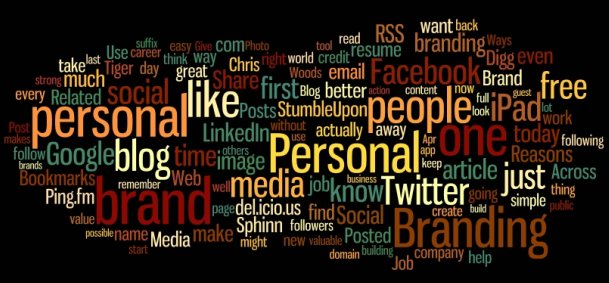 Very often small business owners overlook developing their own personal brand in favour of pouring all their time, talent and effort into getting their fledgling enterprise off the ground. While that may sound like a pretty reasonable and maybe even a good idea; it could be a misstep.
As a small business you need all the exposure you can muster up and as an entrepreneur, your personal brand can be a powerful asset in helping you distinguish yourself from the pack. And when your business is small and essentially built around your own ability and competence, neglecting your personal brand could be costing you a slew of opportunities you weren't even aware of. In fact, many savvy professionals have built up their entire careers solely on their personal brand value.
It may sound daunting, but while building up a large following isn't an easy goal to accomplish overnight, a little bit of deft social media management with a little help from our marketing and brand-building guides will make building up an organic highly engaged following across Twitter , Facebook and other social media platforms a breeze; enabling you to tap into the amazing potential that a strong personal brand can represent.
With that in mind, today we'll be highlighting a few small businesses whose founders or leaders have built up a strong personal brand for themselves and used it to shape the future of their careers and their respective companies.
Pat Flynn
A few of you may have already heard of Pat Flynn. Initially an expert in Environmental and Energy Design, Flynn set off on his own career path to establish himself as a thought leader in business and entrepreneurship. He has authored two books, "Will It Fly", which is in essence a how-to guide to starting your own business and "Let Go" which is about over-coming adversity and partly based on experiences from Flynn's life. Both of his books have become best-sellers and helped Flynn establish himself as a prominent player in the business mentorship circuit providing valuable guidance to first time Entrepreneurs.
Pat is also well known for his blog "The Smart Passive Income Blog" where Pat gives out advice for those looking to break away from their 9-5 jobs and develop their own side business (and perhaps a future full time career). Along with the blog, Flynn also has a "Smart Passive Income Podcast" both of which provide insightful business advice and serve to raise his visibility and strengthen his personal brand as an industry expert.
You can follow Pat Flynn on Twitter or visit his website here.
Jenny Blake
Jenny Blake is an Author, life coach, motivational speaker, entrepreneurship blogger and occasional yoga instructor (among other things). Jenny has spent quite a while developing her personal brand and that is reflected in her website, which is both simple and well laid out, but without coming off as dry an un-engaging.
Blake is most popular for her speaking engagements and as an author, most notably for her book "Life after College". She also has her second book out now called "Pivot". With a background in the tech industry spanning over 7 years with 5 of those at Google, Jenny left a very fruitful career behind to strike out alone and find her own path. In her own words Blake is focused on helping people understand what they want out of life and then helping them understand what they need to do to achieve their goals.
What makes her a great example of personal branding is how consistent, authentic and relatable her messaging is. Unlike many people on similar paths, Jenny doesn't shy away from also addressing the bad days she's had or mistakes she's made in the past with the result being that it makes her myriad of accomplishments all the more valuable
You can check out Jenny Blake's site here and follow her on Twitter here.
Tim Schafer
A veteran of the gaming industry, Schafer first gained prominence as a lead developer with video game division of Lucas Arts where he helped write and develop many beloved classics such as "Day of the tentacle" and the "Monkey Island" series of games. After his tenure at Lucas Arts, Schafer went on to found his own production studio Double Fine Games and found a great deal of critical success with a series of well-regarded titles.
Schafer has worked hard to advance the ability of games to tell strong narratives and stand on their own as works of art. An effort for which he was recognized by the Australian center of the moving image which named Schafer as one of a handful of visionary game designers who have "pushed the boundaries of game design and storytelling, introducing new genres, creating our best-loved characters and revolutionizing the way we understand and play games"
Schafer has developed his personal brand as an expert on interactive entertainment and leveraged it expertly to build up support for the projects that he and Double Fine undertake. He is an outspoken supporter in the crowdfunding model of game development and has used several kickstarter campaigns to fund projects. Most recently, Schafer has even helped to create a crowdfunding platform dedicated to games development named Fig.
You can follow Schafer on Twitter or stay up to date on Double Fine's newest projects on their website here
Phillip DeFranco
Starting as Video blogger (Vlogger) back in those heady, early days of Youtube back in 2006, Phillip DeFranco was one of the first major influencers of the Social media wave. Focusing primarily on news based content DeFranco didn't have an easy road to success, but today enjoys over 6 million subscribers across his various channels, though his main personal channel is by far the most popular with over 5 million alone.
Now you're probably wondering why we picked DeFranco when there are a number of Youtubers who have millions more subscribers and are also far more successful (The likes of Felix Kjelberg a.k.a. Pewdiepie come to mind). But the reason is that while most Youtubers are essentially a one man (or one woman) show, DeFranco has always aimed at building something more, that is essentially greater than himself.
In 2012 DeFranco launched the media companies Group Nine media and SourceFed the latter of which he later sold to the Discovery Network. From building his own channel to being instrumental in the founding of a number of new media ventures DeFranco has shown that he has the business acumen to back up the charm and charisma he exudes as a host and entertainer.
Even though he has found immense success with his personal channel that he still operates, DeFranco is now planning to create his own online news network, currently building itself up under the working title of the Phillip DeFranco Network.
You can follow him across the regular social media channels like twitter and check out his site here.
5. David Gardner
David Gardner is a name that many of you are probably familiar with already, a keen trader turned investment Guru, David Gardner is the Co-founder of the Motley Fool which he started in 1993 with his brother Tom and Erik Rydholm (the latter of which has since departed from the company).
The motley fool was founded to help people understand how to better save and invest their money, with a large portion of their initial content aimed at teens saving for education or helping people fresh of out college to get out of student debt faster. They are also notable for their testimony to Congress following the financial crisis where they, like many others called for greater transparency on Wall Street.
While his brother Tom is the current CEO, David is far more often in the public eye, often compared to legendary investor Warren Buffet for his preference of long term stock picks of companies with high future potential. While he can't boast a 100% success rate, he's noted for making early buy calls on Amazon.com, Netflix, Marvel and many other stocks that have gone on to provide stellar performance.
Today the motley food has grown tremendously with operations in the US, The UK, Canada, Australia, Singapore and Germany. While that doesn't really fit the bill of a small company on the surface, the Motley fool (Or The Fool as they often refer to themselves), has kept their operations quite lean, with a global workforce of around 300 people. You can follow David Gardner here or follow the Motley Fool US here or visit their site
While we're sticking to 5, the list of incredibly talented people doing amazing things isn't a short one. If you know of any talented small business owners with strong personal brands, why not give them a shout out in the comments.
Recommended reading: How to Position Yourself as a Thought Leader on Social Media (with Tactics & Examples)
Featured Image Courtesy: Ryan Rancatore