13 of the Best Brands to Follow for Instagram Marketing Inspiration
Posted in :
Content Curation
,
Content Marketing
,
Others
,
Social Media Tips
on By
Disha Dinesh
Instagram has become a critical part of social media marketing, after having acquired a large segment of social media users and an equally impressive amount of brand engagement.
In fact, as of September 2017,
Instagram had acquired 800 million users, each of whom had followed at least one brand.
Further, it was discovered that 75% of Instagram users who viewed brand ad posts were influenced to take action.
These encouraging trends, among others, have convinced social media managers from everywhere to include Instagram in their social media marketing. And some social media managers are excelling on the platform.
With a reliable social media management tool, like DrumUp, and the best visual marketing ideas, you can use Instagram to meet important business goals. This post describes how other brands are using Instagram, so you can use them as inspiration to create your Instagram marketing plan.
Here are 13 of the best brands on Instagram, along with descriptions of how they're using the social media platform for marketing.
1. Tentsile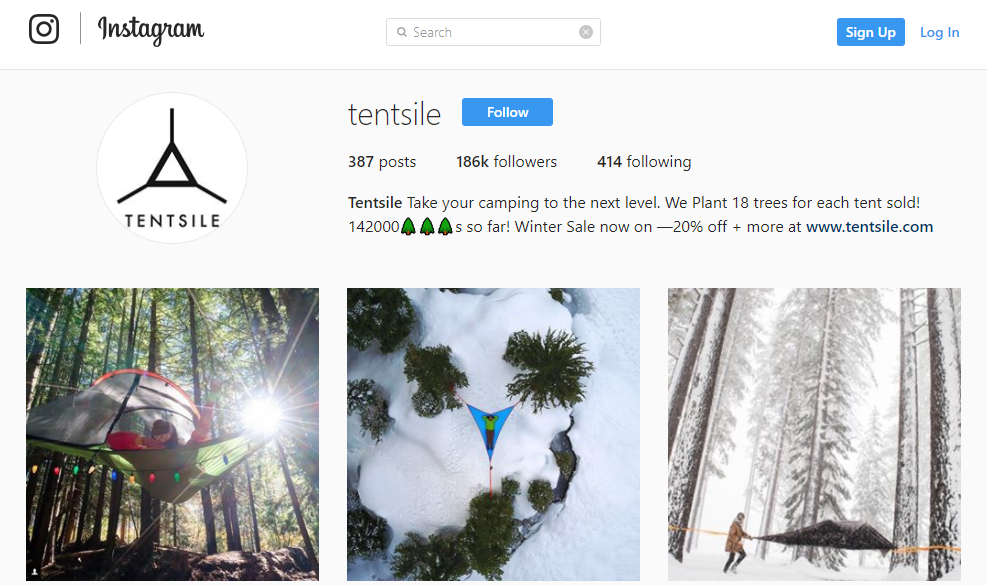 Tentsile's Instagram identity is simple, elegant and impressionable. The brand shares beautiful images of their products within the setting of equally scintillating getaway destinations. This, with the brand's Instagram bio in which it promises to grow 18 trees for every tent sold, make for a page worth following.
Create an Instagram identity that spotlights your main product, creates endless visual possibilities and communicates irresistible experiences.
2. Shake Shack

The restaurant industry plays the perfect fit for what Instagram has to offer as a social media marketing platform. Shake Shack proves this point, by using its Instagram account to share tantalising pictures of the burgers and shakes it serves. Shake Shack also gets creative and works humor into its posts from time to time, which is great for getting fans to smile.
Share beautiful, strongly positive pictures of your products regularly, so your fans begin to associate positive emotions with your brand.
3. Chobani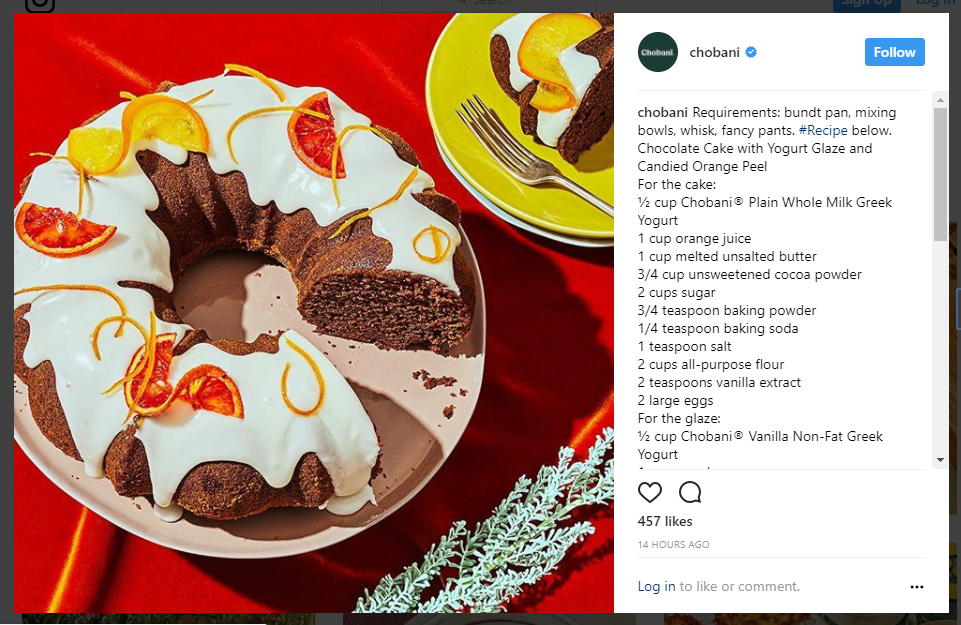 While the food manufacturing industry is very close to the restaurant industry, it can seem like a tougher sell on Instagram, especially when your company is focused on one product. But that shouldn't limit your marketing possibilities. Chobani, for instance, sells Yoghurt, but the company has turned its Instagram account into a place for family dinners and warm, yummy recipes.
Try and find a visually representable use-case for your product that you can display on Instagram posts. Also focus your Instagram storyline on something that's important to fans.
4. No Your City
A visual storytelling blog, No Your City has a lot they can do on Instagram. Since the entire blog is based on visuals, the brand has a never-emptying source of visual posts for Instagram. Since the posts are essentially recommendations of beautiful spots to visit or cultural events to take part of in cities, the resulting Instagram posts are naturally engaging.
Try and identify experiences related to your products that you can document and encourage your fans to try.
5. Chanel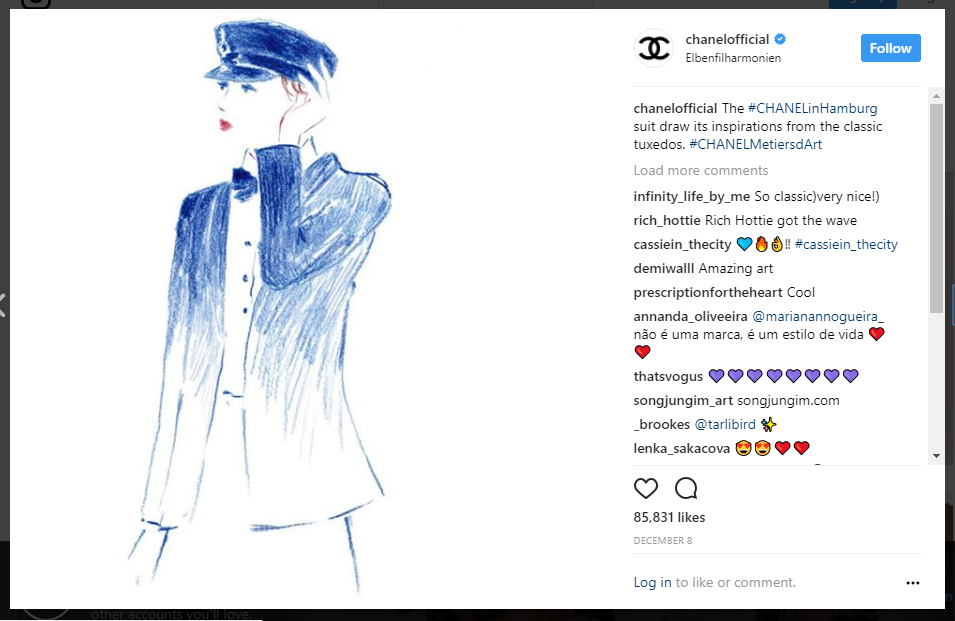 Chanel's most obvious approach to Instagram marketing would be to post pictures of photoshoots, runway shows and designers. But the brand has extended this list to include so much more. Chanel also shares sketches of new designs, pictures of celebrities wearing the brand's clothes and lifestyle and experience based ads (videos and GIFs).
Get creative with visuals. You don't have to limit yourself to product photographs; you can create GIFs and videos to entertain your audience.
6. GoPro
 
GoPro's well known for its social media marketing. Built to help people "capture + share their worlds", the brand has a pretty straight-forward approach on social media. They collect and share their users' experiences on Instagram. In general, UGC is a strategy that works well on social media, and GoPo uses wide spaced subject matters, so every viewer feels included.
If there's a way for you to collect UGC created by or including your product, you can save the costs involved in both creating and marketing content.
7. Divinity LA Bracelets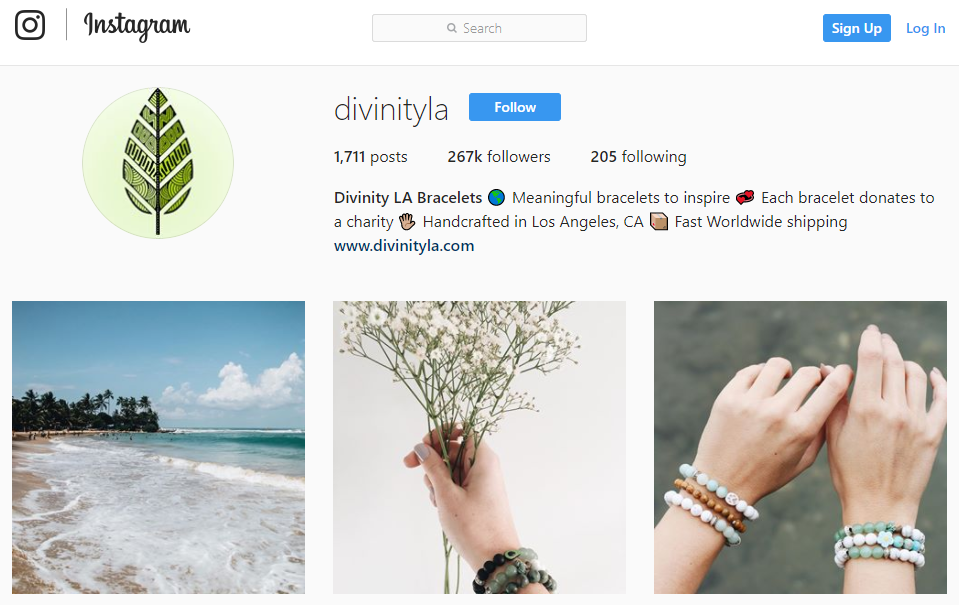 Divinity LA Bracelets beautifully demonstrates how context can transform your marketing. This brand's main product is bracelets, and how they showcase bracelets in photographs is amazing. The subject of their posts is never the bracelet itself. It's the story in the frame, and the bracelet is just one object that's a part of the frame.
Your products don't have to be at the centre of every story, as long as they make an appearance in the frame.
8. MAC Cosmetics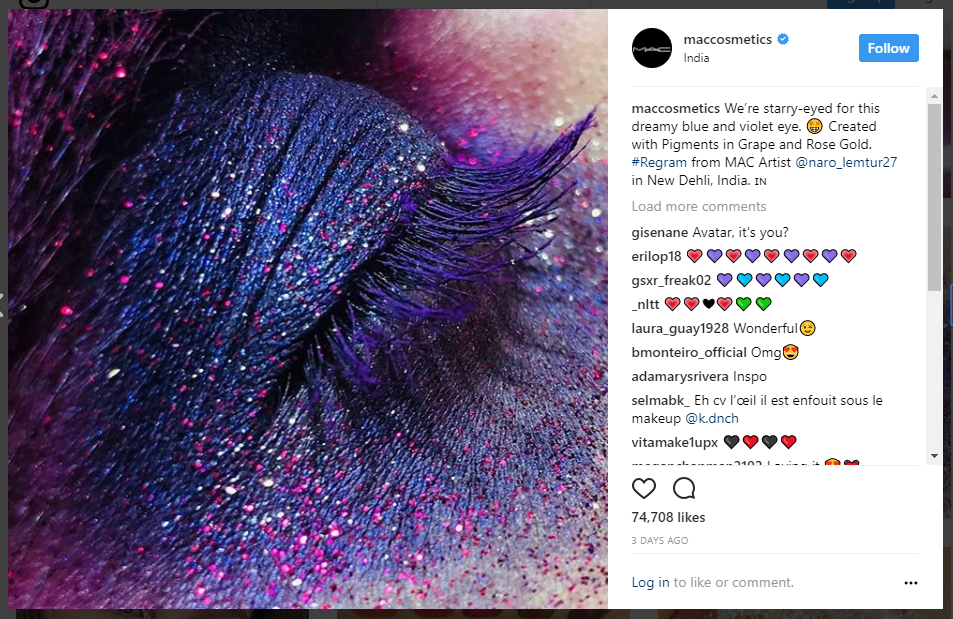 Cosmetics brands can simply post pictures of people using their cosmetics, but MAC Cosmetics takes it one step further. The brand posts beautiful close-ups of makeup ideas regularly, emphasizing the endless possibilities that customers have when using the brand. Further, the brand also posts tutorials on how to create the "Look of the day" and buy the guides and cosmetics necessary.
Instagram provides the best platform for selling products, by demonstrating their use and effect. Use this advantage.
9. We Work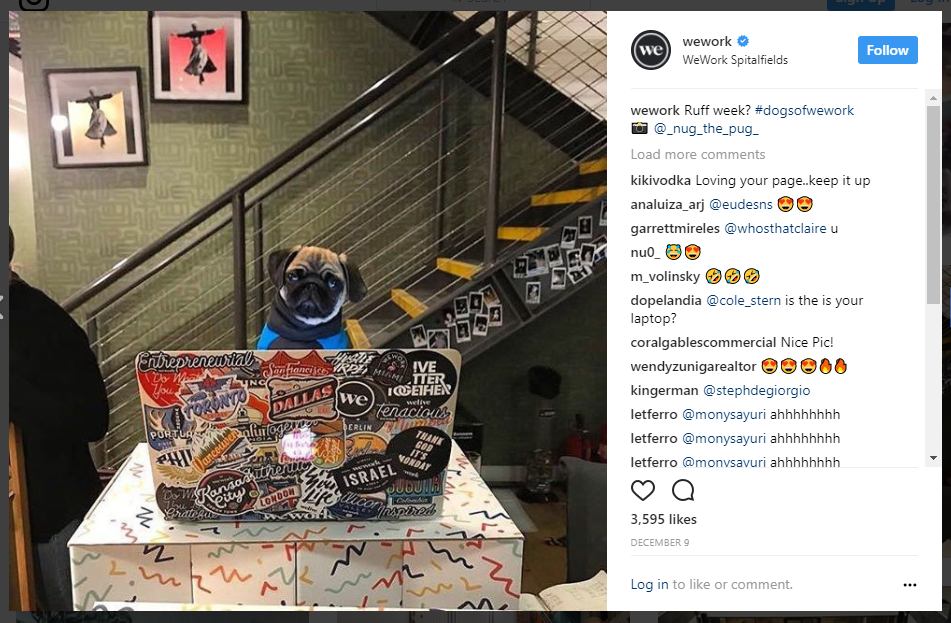 We Work is a workspace that shares beautiful work experiences on Instagram. Although all of their works are focused on work, they bring humor, inspiration and positivity to the table. Overall, We Work has projected the image that theirs is a fun place to work, which is likely to attract the startup crowd that wants a place where they can experience that culture.
Talk about the experiences that your target audience cares about. Create posts that resonate with them.
10. Finfolk Productions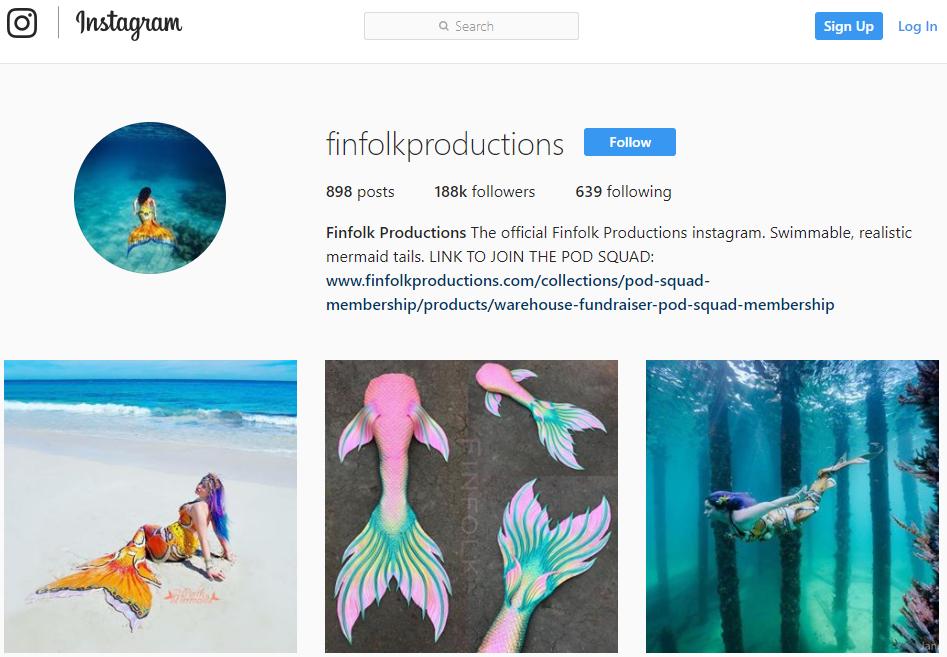 Colors are a critical part of Instagram marketing. You can make an impression on your audience just by choosing the right colors, and using them consistently across your Instagram posts. Finfolk Productions blue hues are beautiful and prominent in all of their fantasy-focused social media posts.
Choose colors that are representative of your brand and its identity. Focus on what goes best with your products and don't be afraid to experiment with shades.
11. Brit + Co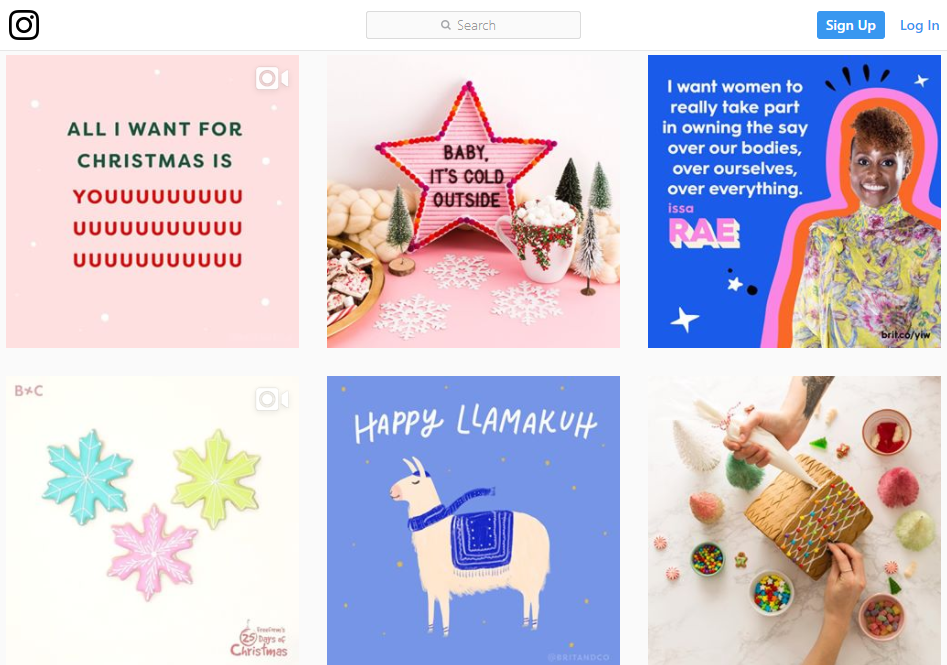 Focused on sharing creative ideas for DIY projects, Brit + Co's Instagram account is visually appealing, informative and highly shareable. The brand shares both video and photograph based DIYs on a regular basis, making themselves indispensable to their target audience, women with a creative spirit.
Visuals can also be used to convey important information, and any brand can use them to establish themselves as subject matter experts. You can even turn blog posts into Instagram posts focusing on the highlights.
12. National Geographic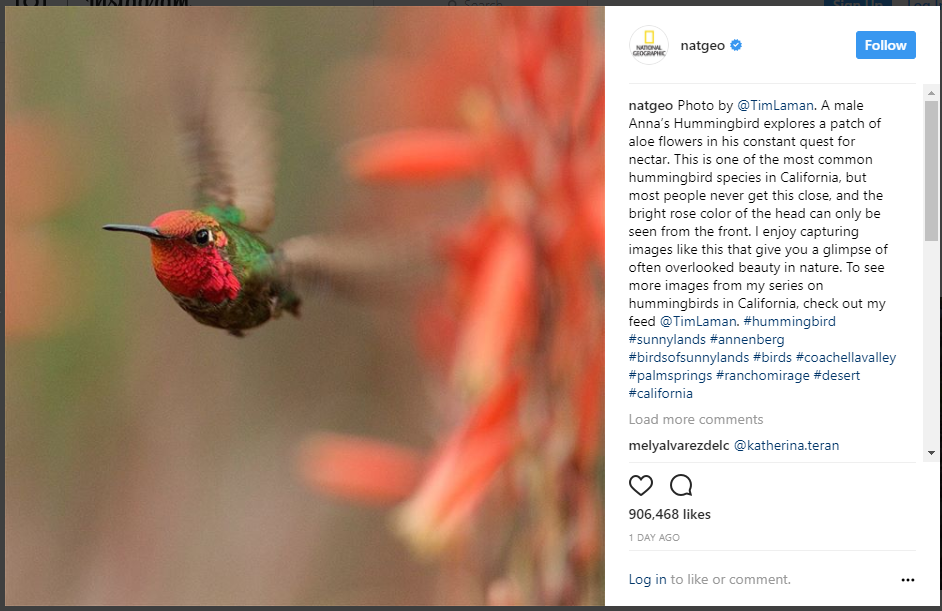 National Geographic is famous for its breathtaking photographs. The brand posts several of these on their Instagram page, featuring their photographers and videographers and reaching new audiences through them. The brand also states facts about the stunning moments posted on their page to help their fans learn about nature.
Simple, high-quality photographs can help you increase engagement when paired with the right text.
13. Dictionary.com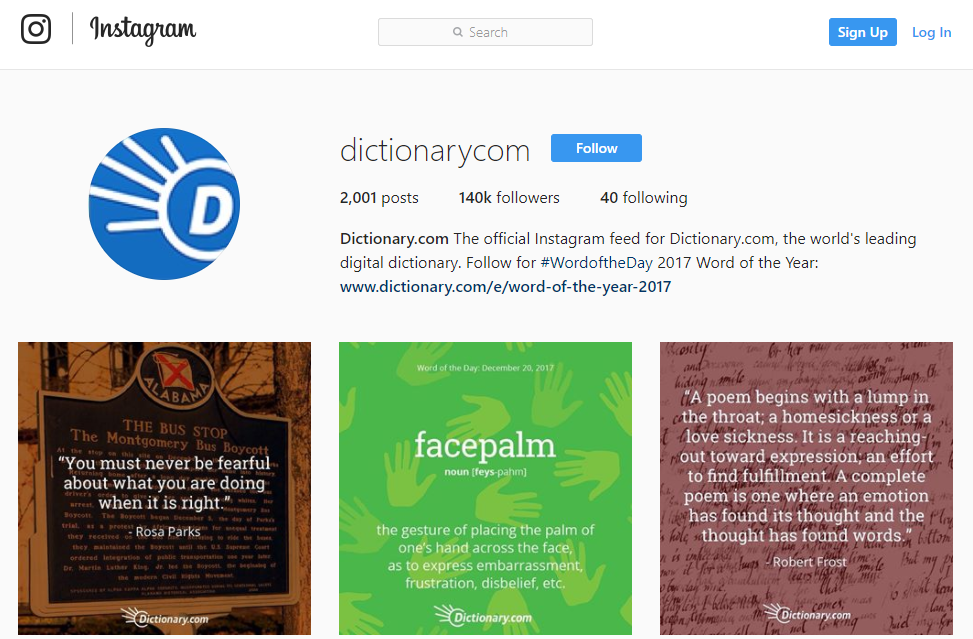 If you thought that simple text on stock images couldn't attract a large fan following, Dictionary.com would prove you wrong. All of this brand's posts are simple, visually appealing backgrounds with humorous or informative text on them. The brand not only teaches their fans new words, but also wows them from time to time by sharing the meanings of words that they never thought were "official" dictionary words.
Envision a concept that is enough to wow audiences, so you can get away with just creating simple text based visuals.