10 Advanced Tips to Make the Most of DrumUp
Posted in :
DrumUp Resources
,
Social Media Tips
on By
DrumUp
Managing multiple social media accounts is a whole lot easier with DrumUp. Here are 10 advanced tips to help you make the most of the app.
1. Adding more social accounts
Adding accounts to DrumUp is simple. You can do this by clicking on the '+Accounts' button on the top of the left panel.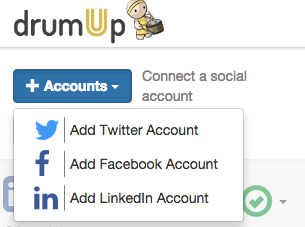 Important tip: Make sure you are logged in to the correct Facebook, Twitter or LinkedIn account when trying to add a social profile. Alternately, log out of the social account you may be logged in to and then try adding the account from the DrumUp dashboard.
2. Scheduling a custom post
Mix your Twitter, Facebook and LinkedIn updates with custom posts every now and then. Announce a promotion, share a product/service launch news or just say a hello! The custom posts can be created and scheduled from the "Create" tab. You can add an image to the post, set it to repeat publish a few times, and schedule it on more than one connected accounts from here.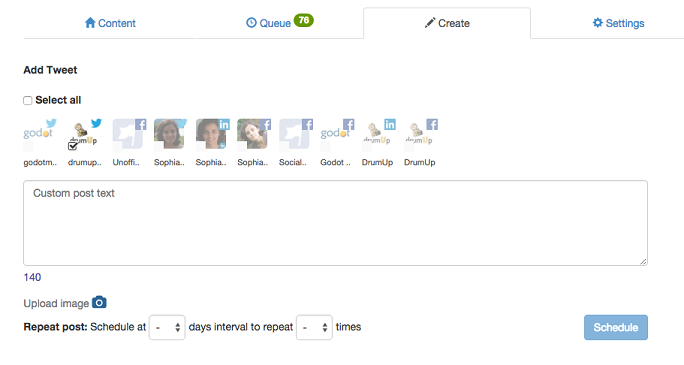 3. Scheduling the same post on multiple accounts
You can do this for both recommended and custom posts. Select the accounts you'd like to schedule the post on or "Select All" for publishing it on all accounts. For recommended posts, the blue "Schedule" button gives the option. For custom posts, the "Create" tab has the option to schedule on multiple accounts. If you have already scheduled a post and want to schedule it on more than one account, you can use the "Edit" button for the post in queue.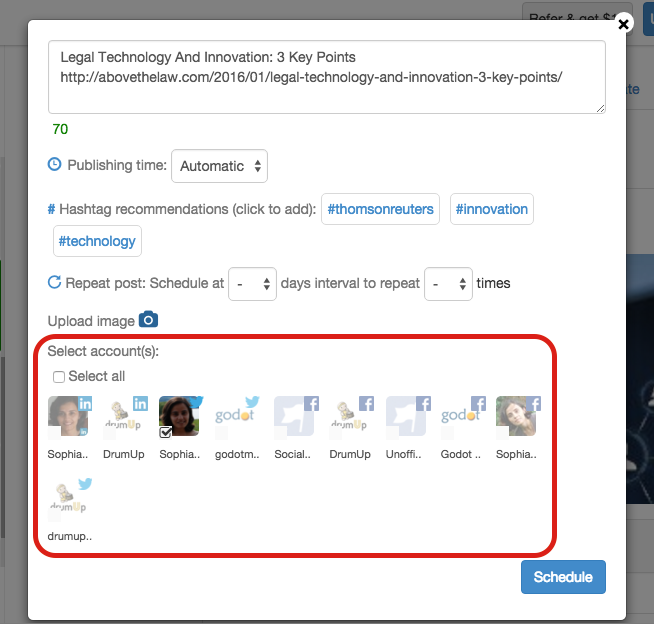 4. Adding recommended hashtags
Hashtag recommendations to increase your post reach are available for the recommended posts. You'll find the recommendations to add by click, under the blue "Schedule" button.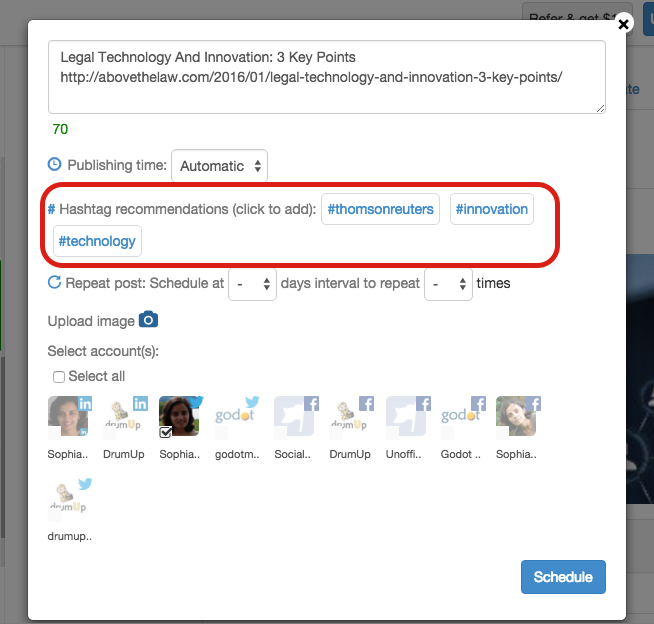 5. Connecting & reading RSS feeds
If you like following or posting from some specific publications or blogs, you can add their RSS feeds to DrumUp. The option is available under the Content tab as "Feeds". Once on the Feeds page, you can add new or manage your existing feeds by clicking on "Add/Manage Feeds". The feeds' pull will look similar to your 'Recommended posts' section, and you can schedule posts from them.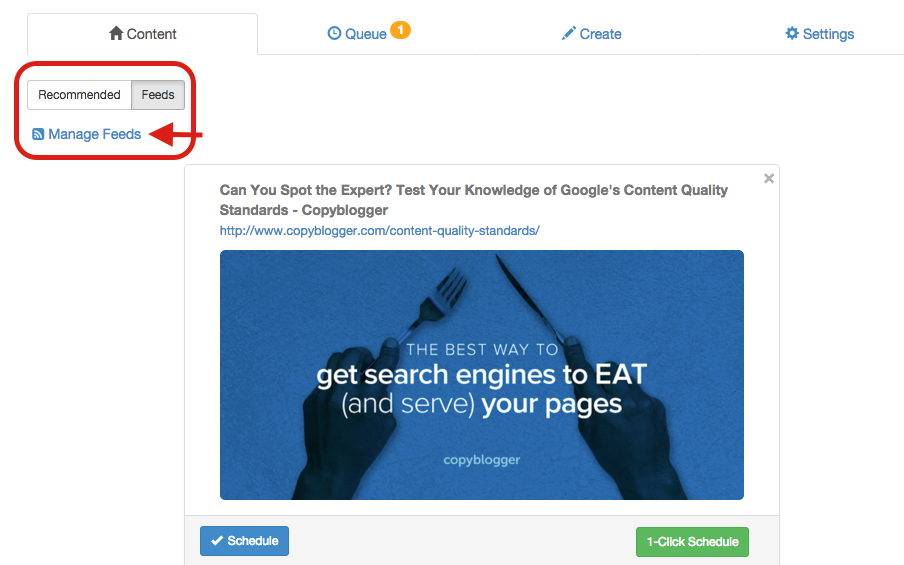 6. Connecting blog feed to post to social accounts
You can also use the RSS feeds feature to connect your blog's feed to your social accounts for automatic publishing. To do this, add the feed of your blog as in Tip #5 and select it to "Auto-post". You can, this way selectively connect your blog feed to specific social accounts.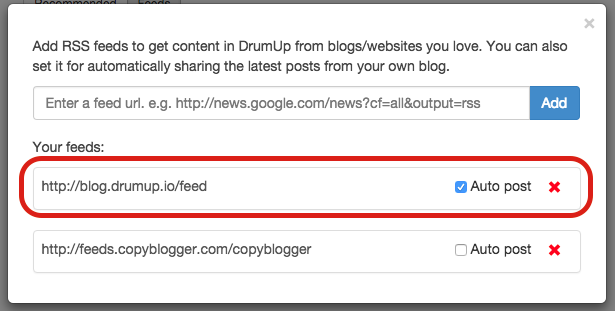 7. Advanced Settings (timezone, content localization by country, negative keywords, no. of publishing slots/day)
The Settings tab for each social profile gives you a number of scheduling and feed customization options. You can use 'negative keywords' to filter out stories with certain words (remember to add both plural and singular, as this option works on exact match). Timezone determines your posting schedule, while the country field localizes the content discovery by the country. Depending on how many recommended or feed posts you want to schedule per day, you can change the "posts per day" field – this determines the best schedules through the day for the given no. of posts.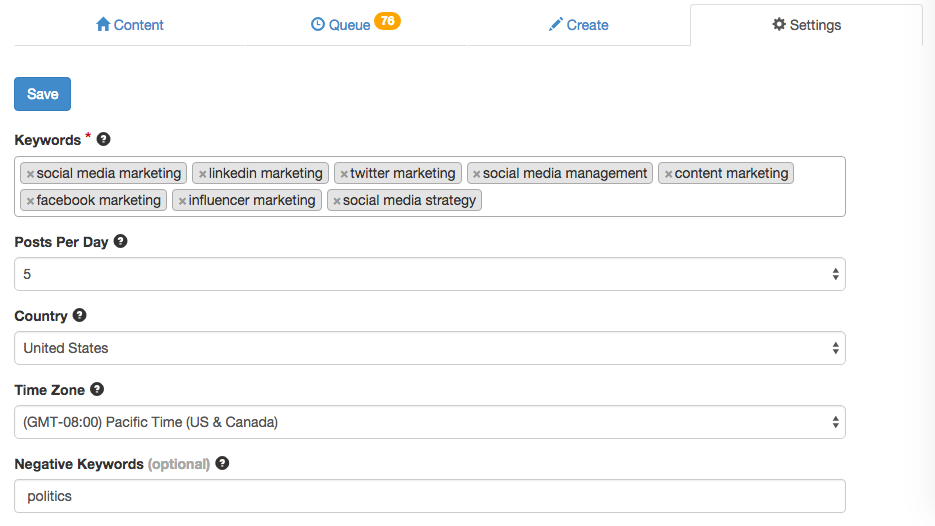 8. Adding images to your post
Images can increase your post interactions by up to 3x. You can add images to all posts on DrumUp (recommended or custom). The option is available under the blue "Schedule" and "Edit" buttons, and on the "Create" tab.
9. Posting an update on a repeat schedule
If you are running a promotion or have written a great blog post, you would surely want to share the update more than once. With DrumUp, you can do this super conveniently by setting a publishing frequency for such posts. The option is available under the blue "Schedule" and "Edit" buttons, and on the "Create" tab. You can set the frequency by inputting the days' interval between 2 consecutive posts and the no. of times you'd like to repeat.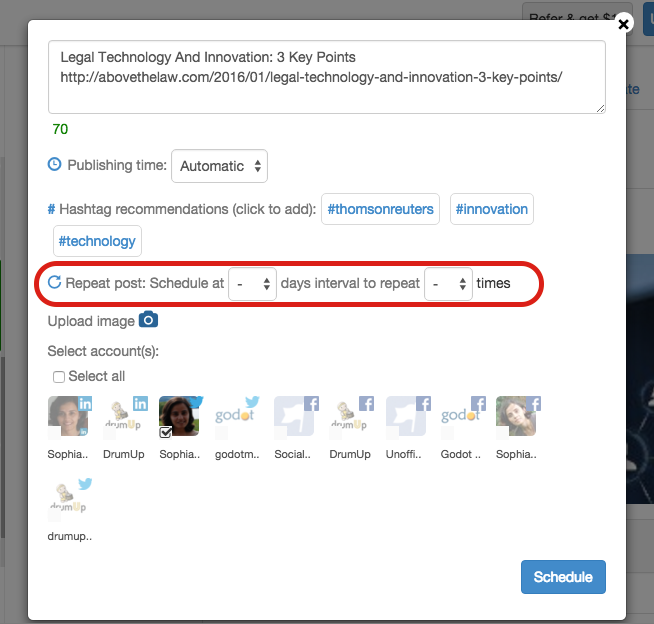 10. Changing date-time of a post
If you want to run a post on a specific date-time, you can conveniently set the specific schedule either at the time of scheduling the post or by editing the post in the queue. To do this on recommended posts, click on the blue "Schedule" button and change the "Publishing time" to "Custom" and use the calendar to set the date-time. The "Edit" button on scheduled posts also has a calendar icon, which can be clicked on to change the date-time of the post.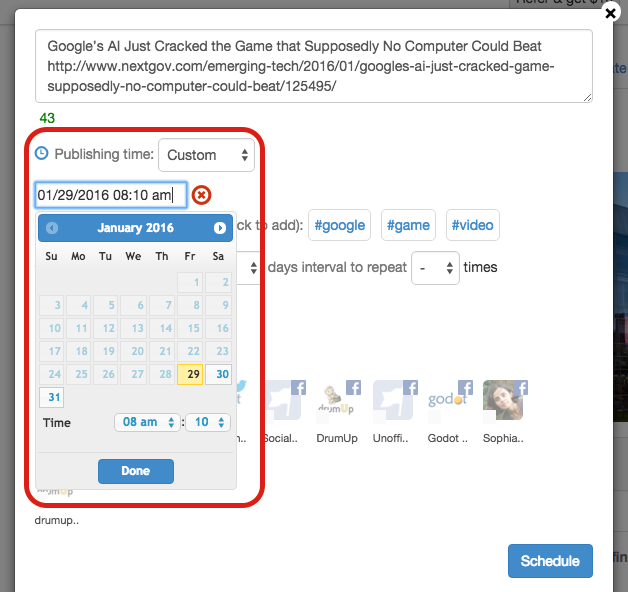 DrumUp is a great Swayy alternative, complete with content suggestions and advanced scheduling features. As always, if you have any questions, we're right here to help. Also feel free to write to us if you would like to share any suggestions, or simply want to tell us why you love DrumUp.