13 Advanced Tips to Make the Most of DrumUp
Posted in :
DrumUp Resources
,
Social Media Tips
on By
DrumUp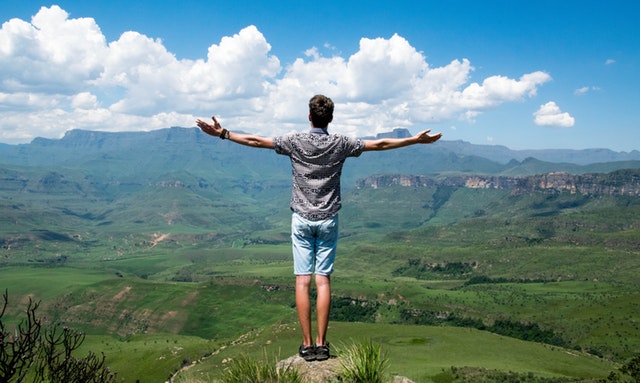 Managing multiple social media accounts is a whole lot easier with DrumUp. While most of you know DrumUp lets you schedule posts in advance, many of you haven't made use of the tool to its maximum potential. We are building DrumUp for a passionate community of organic social media marketers who are seeking a one-stop solution that can help –
Schedule social media posts
Curate content
Keep your queues active and never empty
Amplify your visibility
Build relationships with bloggers
Identify best posts
Here are 13 advanced tips to help you make do all of the above and make the most of the app.
Note – If you want extra help with any of these, please write to us at support@drumup.io.
1. Adding more social accounts
Adding accounts to DrumUp is simple. You can do this by clicking on the 'Add social account +' button in the middle of the panel on the left and choose the type of account you want to add.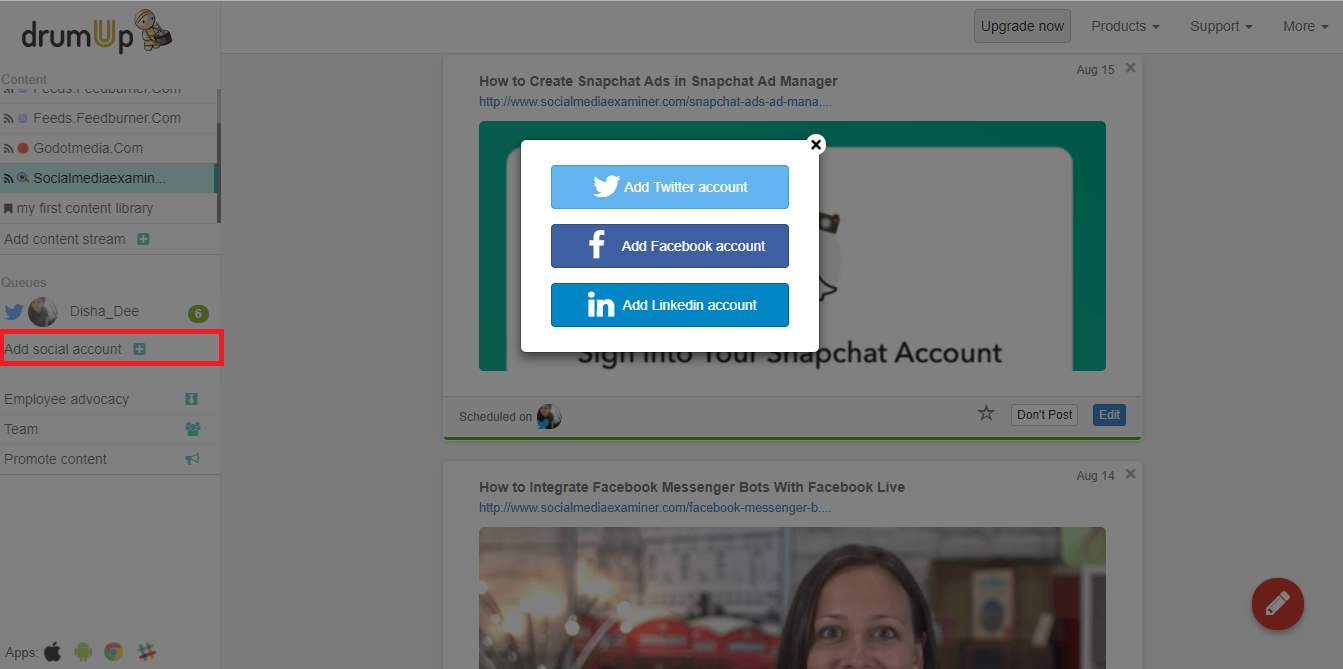 Important tip: Make sure you are logged in to the correct Facebook, Twitter or LinkedIn account when trying to add a social profile. Alternately, log out of the social account you may be logged in to and then try adding the account from the DrumUp dashboard.
2. Scheduling a custom post
Mix your Twitter, Facebook and LinkedIn updates with custom posts every now and then. Announce a promotion, share a product/service launch news or just say a hello! The custom posts can be created and scheduled using the red compose button. You can add an image to the post, set it to repeat publish a few times, and schedule it on more than one connected accounts from here.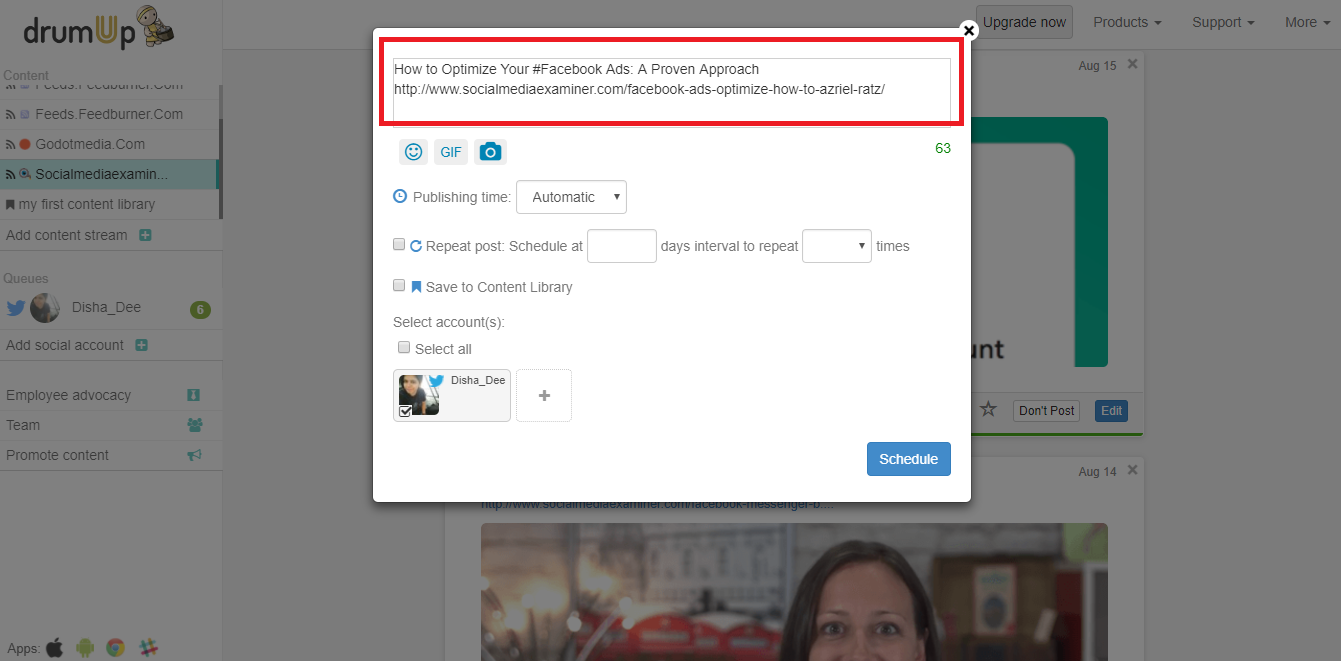 3. Scheduling the same post on multiple accounts
You can do this for both recommended and custom posts. Select the accounts you'd like to schedule the post on or "Select All" for publishing it on all accounts. For recommended posts, the blue "Schedule" button gives the option. For custom posts, the red compose button has the option to schedule on multiple accounts. If you have already scheduled a post and want to schedule it on more than one account, you can use the "Edit" button for the post in queue.
Important tip: Create social media account groups using the option on the red compose button to make your life easier when scheduling posts. Accounts where you share the same/similar posts can be grouped.
If you wish to 1-click schedule to multiple accounts, you can change your settings to allow that.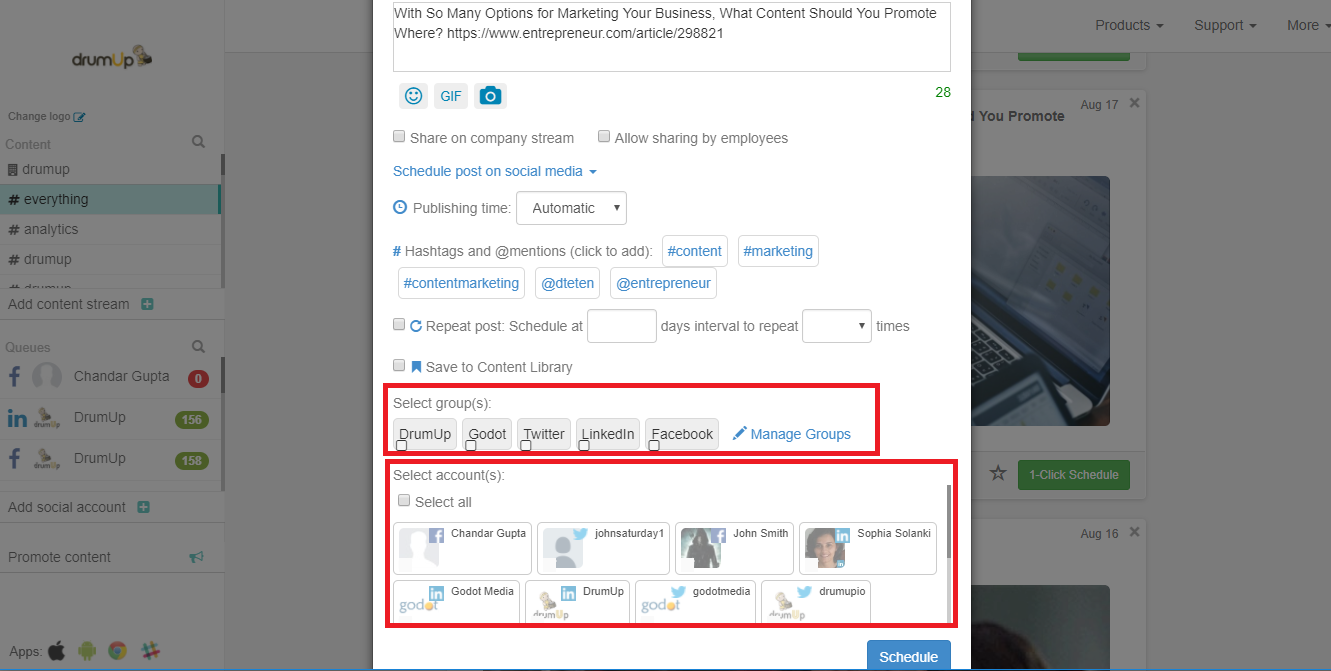 4. Adding recommended hashtags and @mentions
Hashtag and @mention recommendations to increase your post reach are available for the suggested posts. You'll find the recommendations to add by clicking the blue "Schedule" button.
@mentions can also help you build relationships with bloggers in your industry.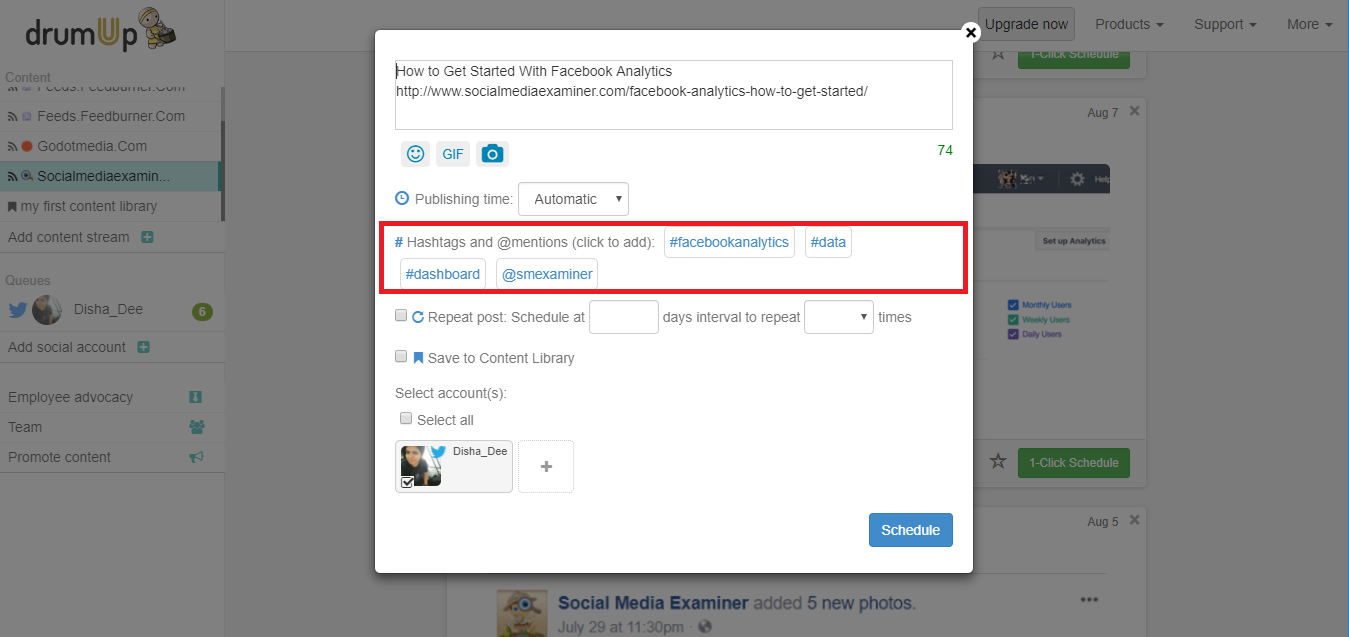 5. Connecting & reading RSS feeds
If you like following or posting from some specific publications or blogs, you can add their RSS feeds to DrumUp. The option is available when you click on 'Add content stream +'. In the Feeds box, you can add new feeds and set them on automatic posting, if preferred.
6. Connecting blog feed to post to social accounts
You can also use the RSS feeds feature to connect your blog's feed to your social accounts for automatic publishing. To do this, add the feed of your blog as in Tip #5 and select it to "Auto-post". You can, this way selectively connect your blog feed to specific social accounts.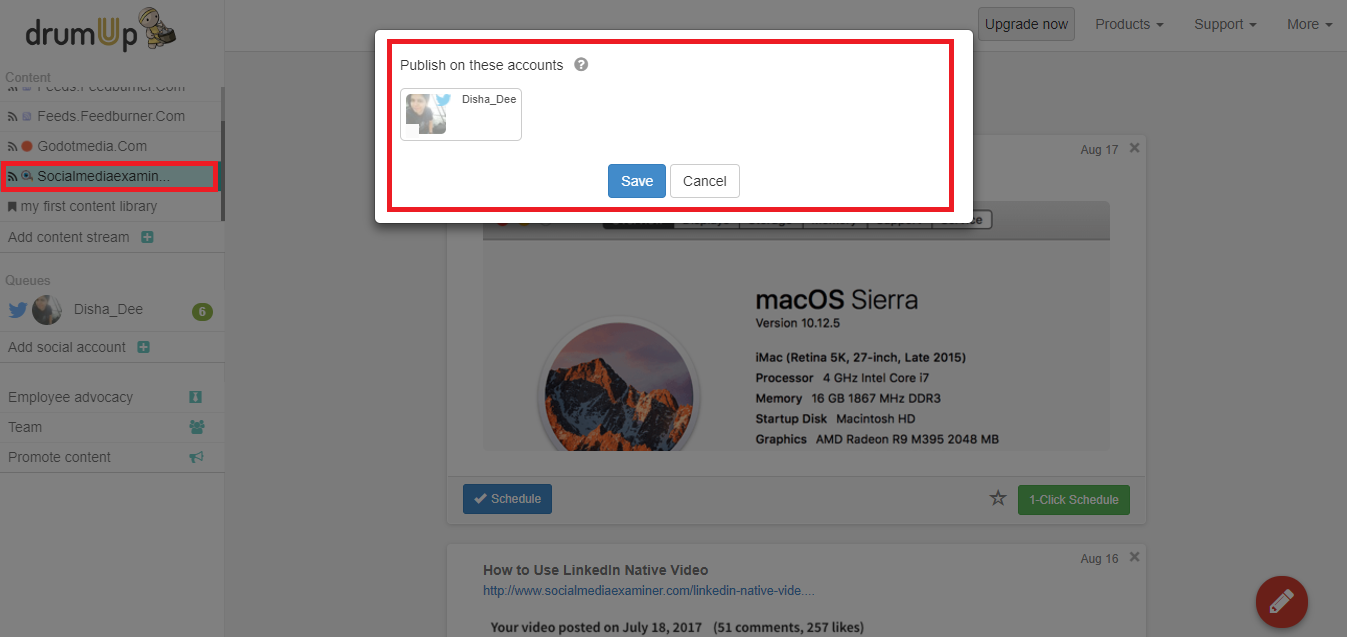 7. Advanced Settings (timezone, content localization by country, negative keywords, no. of publishing slots/day)
The Settings tab for each social profile gives you a number of scheduling and feed customization options. You can use 'negative keywords' to filter out stories with certain words (remember to add both plural and singular, as this option works on exact match). Timezone determines your posting schedule, while the country field localizes the content discovery by the country.
Depending on how many recommended or feed posts you want to schedule per day, you can change the "posts per day" field – this determines the best schedules through the day for the given no. of posts.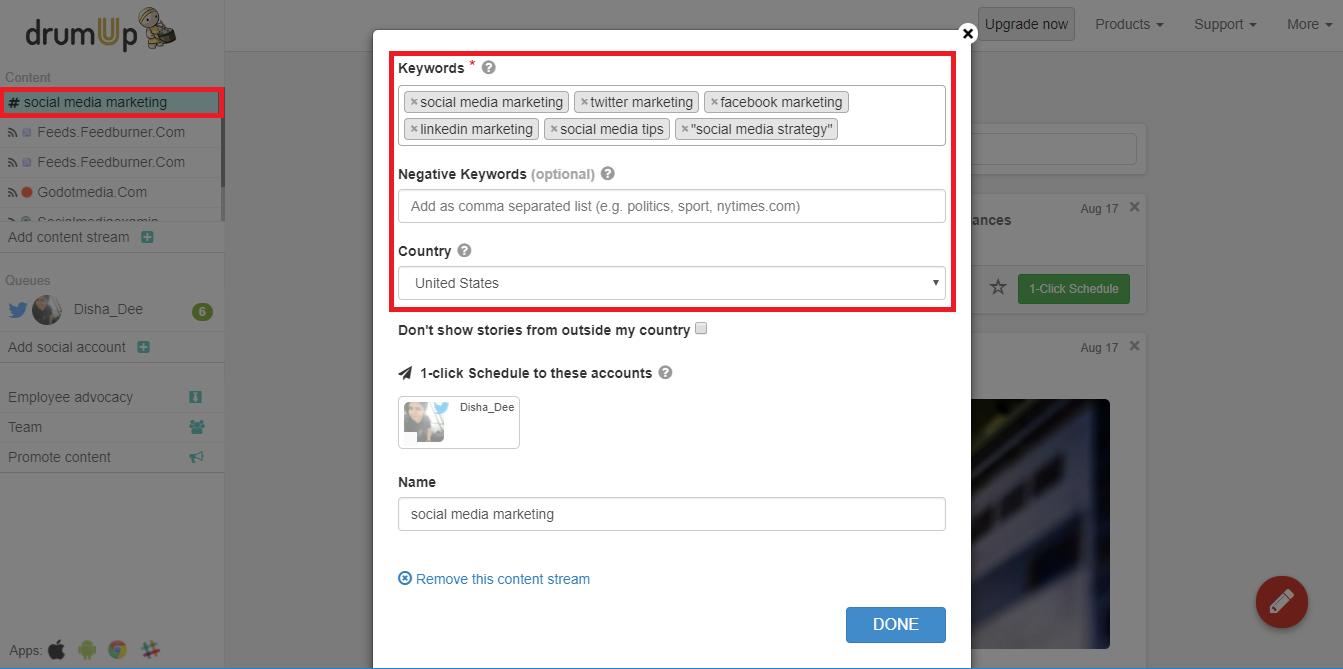 8. Adding images, emojis and GIFs to your post
Images can increase your post interactions by up to 3x. You can add images to all posts on DrumUp (recommended or custom). The option is available under the blue "Schedule" and "Edit" buttons, and using the red compose button.
You can also add emojis and GIFs to them. DrumUp's GIPHY integration allows you to search GIPHY and add GIFs without leaving the app.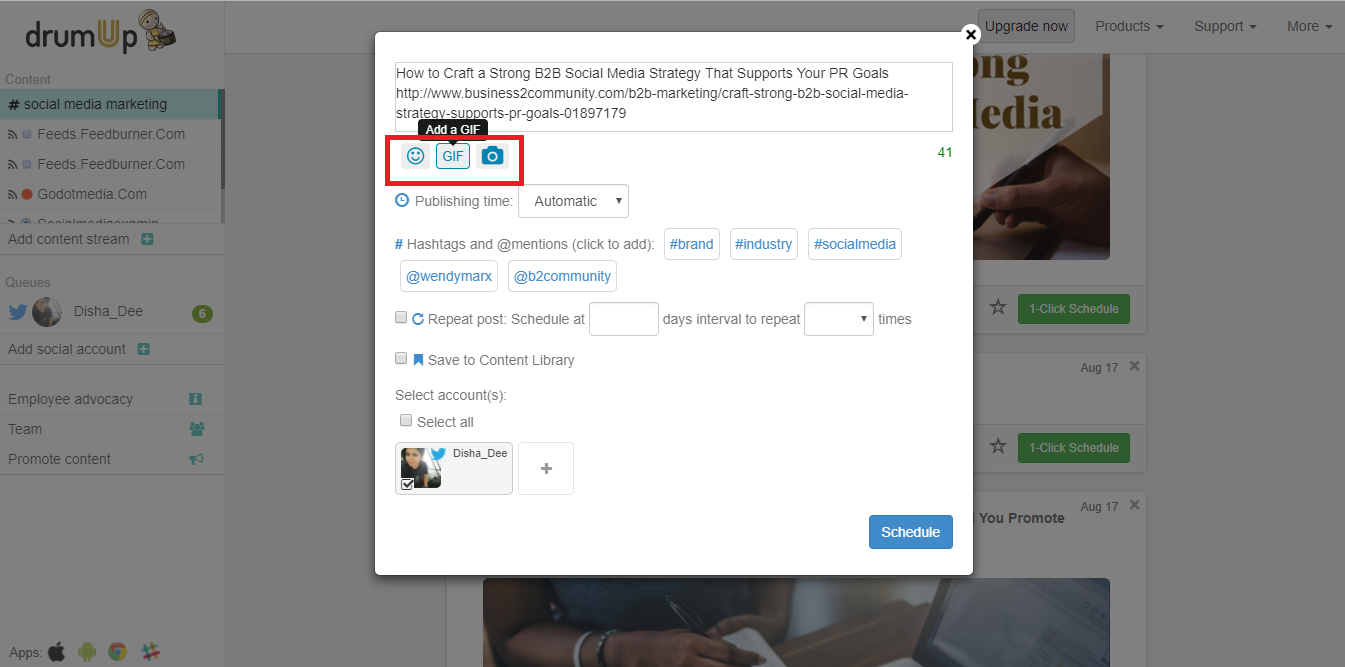 9. Posting an update on a repeat schedule or setting libraries on auto-post
If you are running a promotion or have written a great blog post, you would surely want to share the update more than once. With DrumUp, you can do this super conveniently by setting a publishing frequency for such posts.
The option is available under the blue "Schedule" and "Edit" buttons, and when you use the red compose button. You can set the frequency by inputting the days' interval between 2 consecutive posts and the no. of times you'd like to repeat.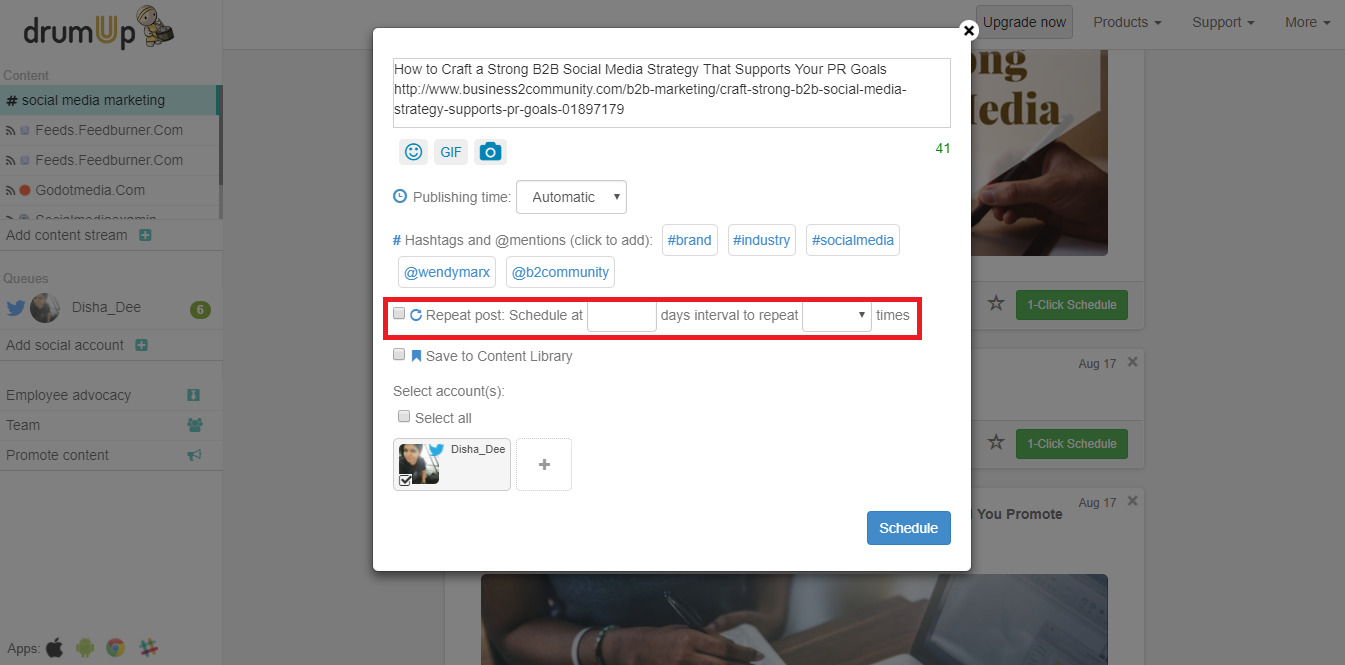 If you want to ensure that your social media accounts are never empty, you can set a library of posts (chosen by you), on a repeat cycle of automatic publishing. The frequency, start date and stop date can all be decided by you.
This option is available under the settings of all content libraries you create. You can also set RSS feeds on auto-post as discussed previously.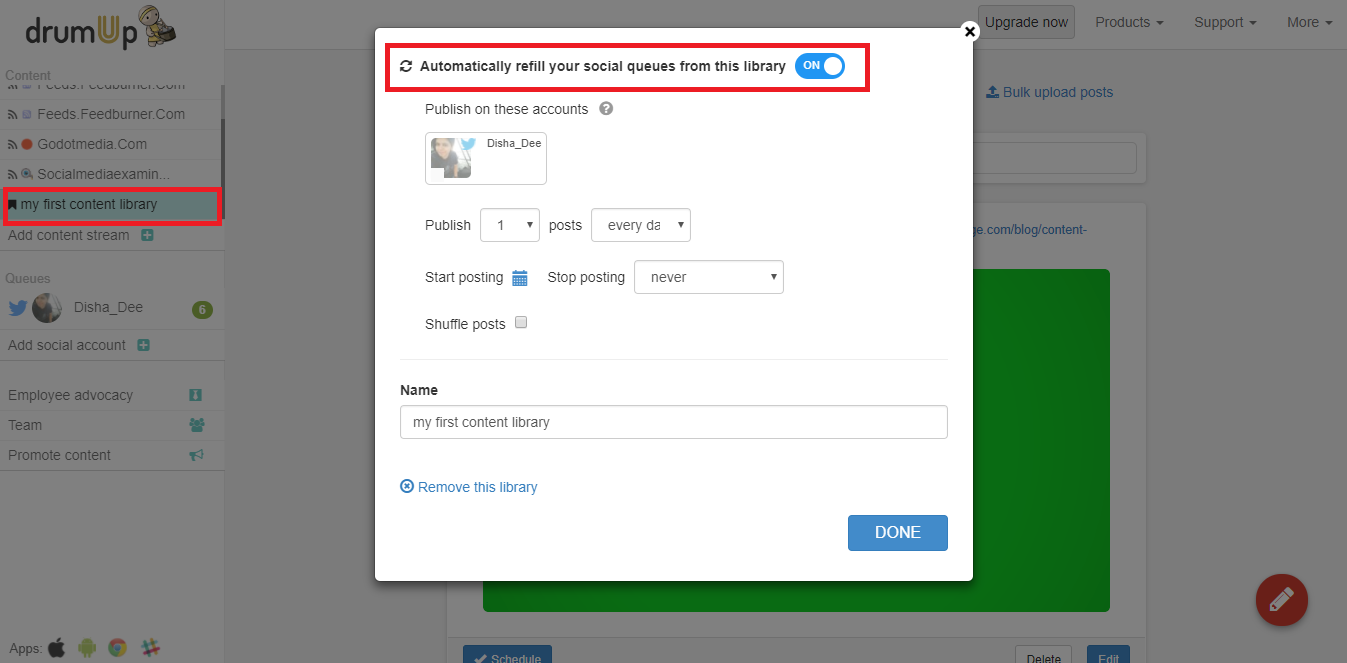 10. Changing date-time of a post
If you want to run a post on a specific date-time, you can conveniently set the specific schedule either at the time of scheduling the post or by editing the post in the queue.
To do this on recommended posts, click on the blue "Schedule" button and change the "Publishing time" to "Custom" and use the calendar to set the date-time. The "Edit" button on scheduled posts also has a calendar icon, which can be clicked on to change the date-time of the post.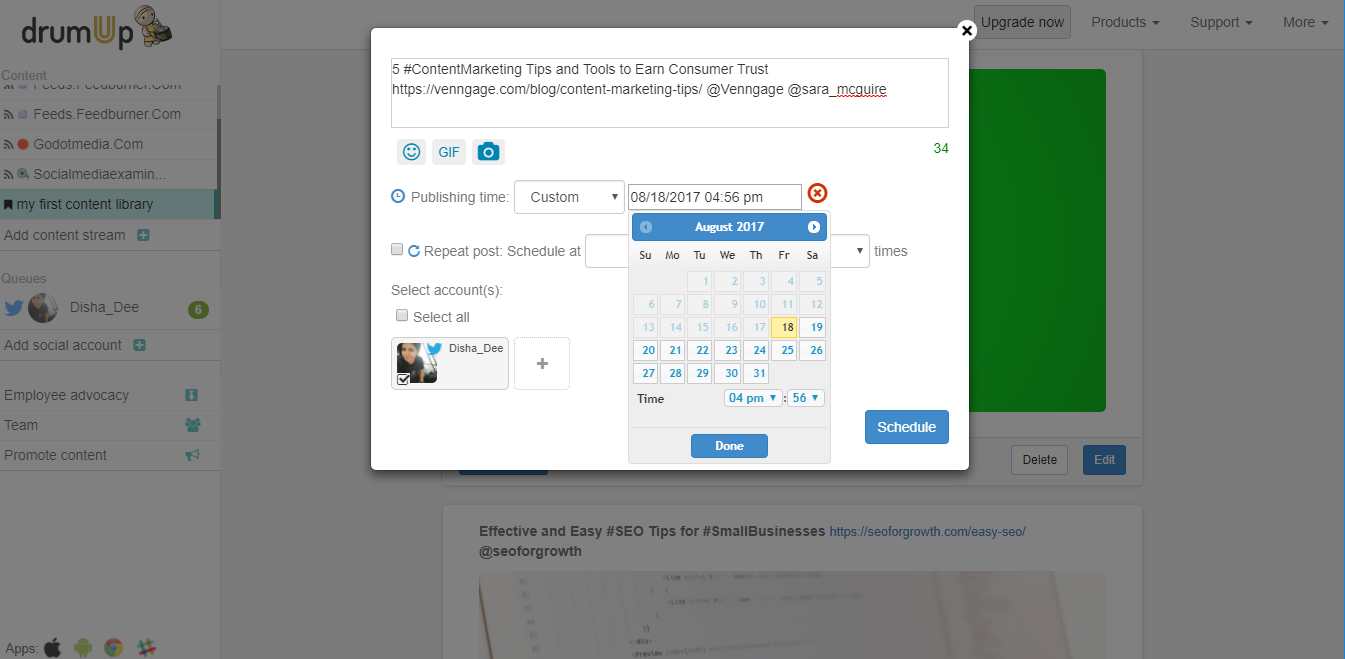 11. Use the queue calendar to review scheduled content
If you decide to schedule two weeks' worth of content in advance, or have teammates/employees doing it for you and want to review it, you can use DrumUp's queue calendar.
The calendar is available under any social media account queue. In calendar view, you can also edit, delete and reschedule content to change their dates.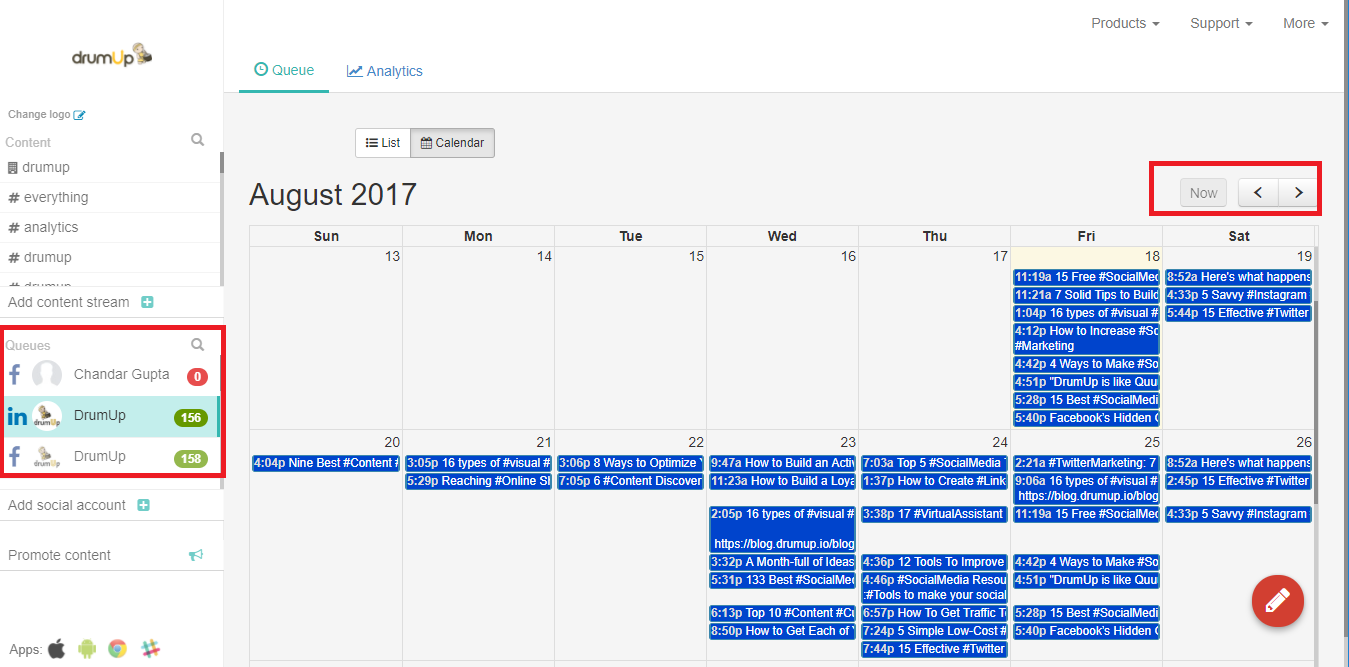 12. Save evergreen content and best posts to content libraries for future use
Many marketers spend a lot of time creating content but little promoting it. So much of the content you create can be reused, promoted more extensively or repeated in your social media queues. Instead of wasting time searching for these when you need them and manually uploading them each time, you can save them within your social media scheduling app (here DrumUp) for easy access.
To create libraries, click on "Add content stream +' and then create content library. You can upload the posts here manually or use bulk upload to even speed up that task.
Once posts are uploaded on libraries, then can be scheduled individually when needed or set on auto-post to ensure that your social media queues are never empty.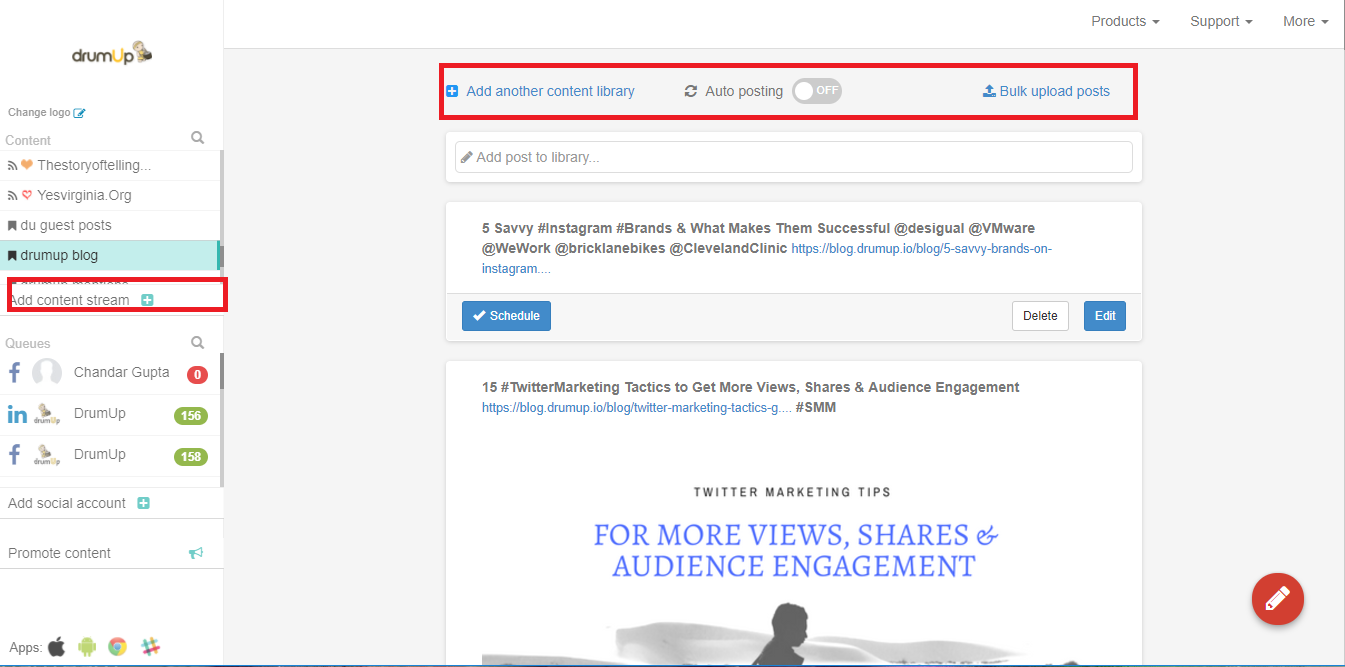 13. Use social media analytics to identify best posts
Typically, social media scheduling and analytics tools are separate. However, DrumUp provides you with the basic social media engagement metrics that you need to identify best posts.
Once you have, you can reschedule these posts within the app.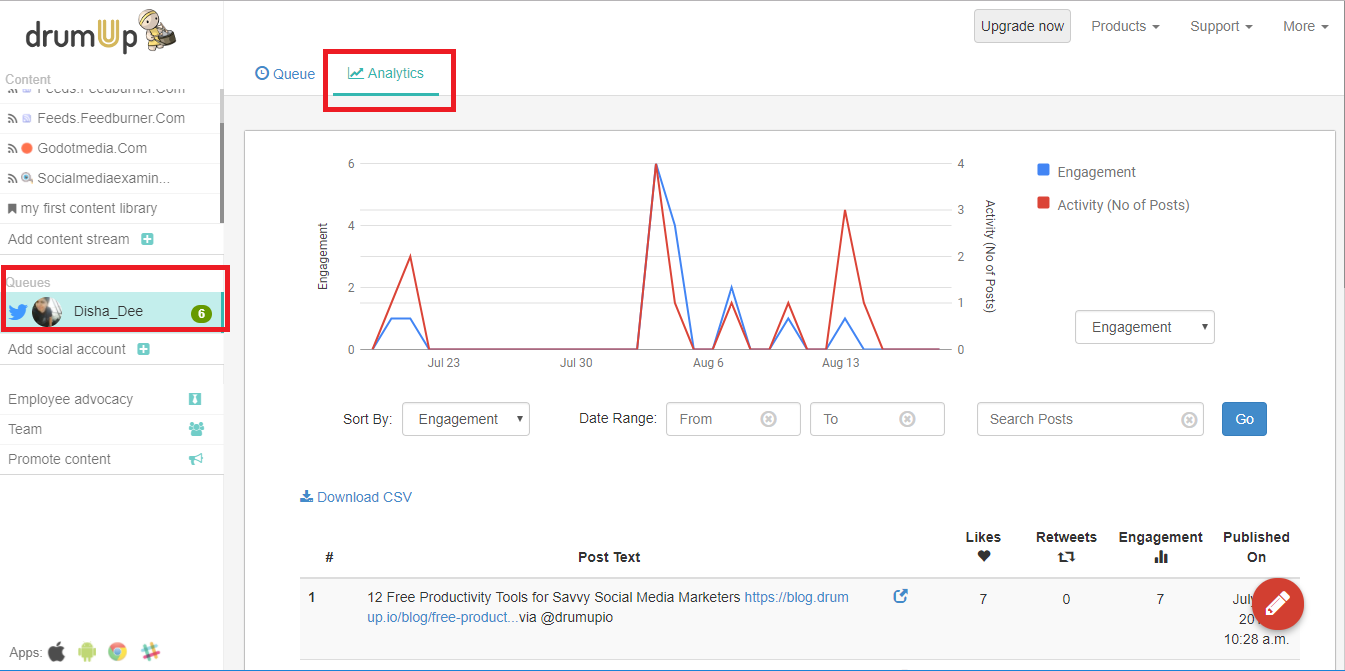 DrumUp is a great Swayy alternative, complete with content suggestions and advanced scheduling features. As always, if you have any questions, we're right here to help. Also feel free to write to us if you would like to share any suggestions, or simply want to tell us why you love DrumUp.
Note – This post was first published in February 2016 and has since been updated to make room for new DrumUp features.